Golden Gorilla Slot Review
Golden Gorilla Slot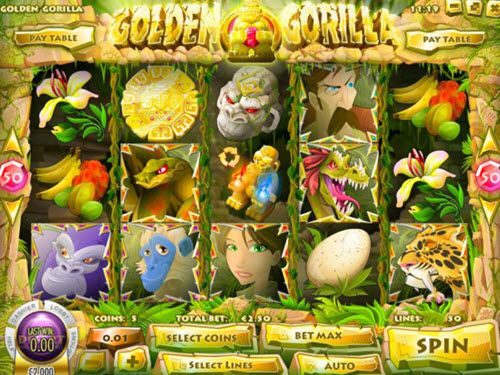 Rating: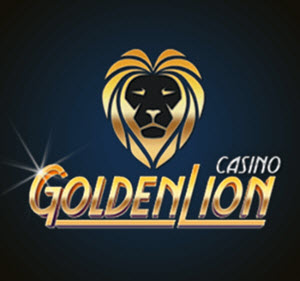 Golden Gorilla Slot Features
Golden Gorilla Slot Basics
Game Type : Video Slots
Software : Rival Software

Rival Gaming is aimed at providing gamers with casino games that will guarantee them maximum entertainment. One of these game is Golden Gorilla. Golden Gorilla is a jungle-themed slot game that is packed with fifteen different symbols. Some of the features of the game include Scatter symbols, two different free spins bonus that is accompanied by two different wild multipliers of 2x and 3x of your winnings.
General Review of Golden Gorilla Slot
Golden Gorilla has a highly detailed graphics. However, the game has some flaws with its design. One of its major flaws is that it is difficult to easily differentiate between various symbols present in it.  Apart from the Blue Monkey which is the high paying symbol that is easy to recognize the others are not easily distinguished. For instance, it is quite difficult to differentiate between symbols like Man and the Woman Symbol in the reels when it is spinning. All the other symbols except for the Blue Monkey symbol all have green-like and yellow-like colors. For example, the Dragon symbol, Jaguar symbol, Golden Plate symbol and the Gorilla symbol all have the same look.
The four aforementioned symbols are one of the best and one of the most rewarding symbols in the Golden Gorilla slot game. However, the most rewarding of them all is the Gorilla Wild closely followed by the Gorilla Scatter. Whenever you land a Gorilla Wild, it will fill up all the reels in order to make a new winning combination. The value of the Gorilla Wild however varies. During the free spins round, the Gorilla Wild will multiply your total winnings twice(2x) while during the Super Round, the Gorilla Wild will multiply your winnings thrice (3x).
For you to get free spins, you will need to land at least three Golden Gorilla Scatters. Landing three Gorilla Scatters will earn you 15-50 free spins. To be precise, 3 Scatters will earn you 15 free spins, 4 will earn you 25 free spins and 5 will earn you 50 free spins. Whenever you land three or more bonus symbols in the reels, you will automatically trigger the Super Round.
Golden Gorilla Slot has 50 paylines and you can choose to wager on how as many lines as you want. One downside of this slot game is that its theoretical RTP(Return to player) is 94.20%. This RTP is low and it sometimes makes players to not want to regard the game well.
The game, however, rewards you well. The game will greatly reward you when you land five similar symbols on the reels. If you are lucky enough to land five similar symbols with a Wild, your reward will be greater. Though the variance of the game is very high, it rewards compensates for that part with several bonus packages.
How To Win On Golden Gorilla – Strategy
And Tips
Is there a strategy for Golden Gorilla Slot game? If the answer is yes, is it worth paying attention to since the game's RTP is slightly about 94%? These are some of the questions that Golden Gorilla players tend to ask themselves.
Well when playing Golden Gorilla, your target should be landing high paying symbols and land free spins features as much time as possible. The free spins, for instance, increase your winning chances by allowing you to have access to more and more spins.