Golden Lion Banking
Golden Lion Casino is familiar with the fact that you would have to hold your funds with high regards to attain professionalism as a gambler. The casino knows how important funds are to players and made sure all necessary precautions are taken to ensure a smooth and fair transaction while gracing the casino.
There are numerous payment options available for players to enjoy in the casino. The minimum deposit that can be made to your account is $25. This is also the minimum deposit required to claim any of the exciting bonus offered by the casino. The casino's main currency is US dollars, all transaction whether deposit or withdrawal are carried out in USD. Making withdrawals in the casino would take over 24 hours depending on the transaction method that the player makes use of.

>>Get $50 Free Now<< - use Bonus Code: 50INFINITYLUCK
Players at the casino can place a transaction limit on the amount of funds that can enter or leave their casino account. To place or remove the limitation, a 24 hours heads up is required from the player to the casino. The Golden lion casino does not offer a lot of transaction options but the options provided are the most common options available to a lot of players across the globe.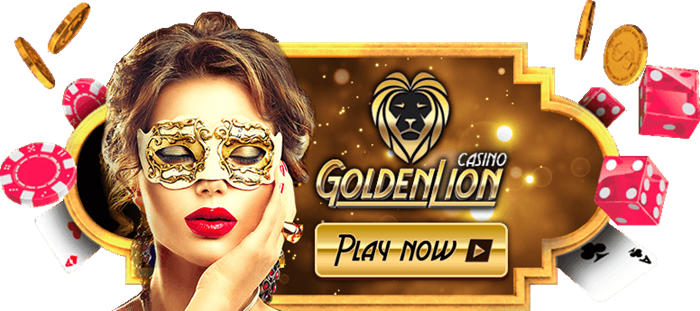 ---
Deposit
Gracing the wheels of the Golden line casino as a new or existing player would provide you with a lot of bonus offers that you might not use the transaction options available for making a deposit for a long time. Depositing funds in the casino can be done via Bank wire, MasterCard, Visa, Paysafecard, Bitcoin, Netteler, and Skrill.
Each of these options has a maximum amount attached to them and would take a specific time frame before the deposited funds would reflect in your account. All funds deposited via any of the above payment options has a transaction fee attached, the fee depends on the option used to carry out the transaction.
- Bank Wire: this is one of the most used depositing option that lots of players at the Golden Lion casino explore. Bank wire is available to only players in the United States, making use of this option would provide an instant deposit to your account. Take note that depending on the amount of funds that can be deposited via this transaction option is unlimited.
- MasterCard: you would hardly find a gambler who is not familiar with this transaction option. MasterCard is one of the most popular transaction options in the world. Players who are in the US and abroad can make use of this option to deposit funds to their casino account instantly. The minimum amount that can be transacted via this option is $25 while the maximum is $1000.
- Visa: making a deposit via a visa card is also very easy. Making use of this transaction option would warrant the input of your card details into the casino's database. The minimum funds that can be transacted using this option is $25 while the maximum is $1000. Funds are deposited instantly into the player's account.
- Paysafecard: you would need to be an EU player to make use of this transaction option. Instant funding is guaranteed while making use of this payment option. Players can deposit as low as $25 and a maximum of $1000 with this transaction option.
- Bitcoin: since the cryptocurrency had such a remarkable impact on a global scale, a lot of casinos have inculcated it as a transaction option in their casinos. Golden Lion casino offers Bitcoin as a depositing option to players. Funds depositing via bitcoin reflect instantly in the users' account. The minimum amount that can be deposited is $25 while the maximum is unlimited.
- Neteller: this is a very viable option for players who are abroad. The options give's international players better and faster access to funding their casino account. The maximum funds that can be deposited via this option is $1000 while the minimum is $25.
- Skrill: this is one of the most used payment methods by international players. You can fund your account instantly from your Skrill account at any time. The minimum funds that can be deposited still remain $25 while the maximum is $1000.
Take note that after making your first deposit to the casino you would have to put a call through to the Golden Lion casino customer service which would provide an instant reply for you to get your payment method verified. Failure to do so would give the casino the right to block withdrawal of all winnings, bonuses and future deposits.

---
Withdrawal
Making withdrawal is the goal of every gambler. In as much as we know that making deposits is required before we can have access to withdrawal, we would do anything to skip the option of depositing to making withdrawals. The Golden Lion casino provides players with three main options to carry out withdrawals. The available options for withdrawal are MasterCard, Bank wire and Visa.
MasterCard: making a withdrawal via this option would take about 7 business days to process. Players can withdraw up to $2000 using this platform while the minimum that can be withdrawn is $100.
- Visa: just like the MasterCard option, it would take 7 business days for players to get full access to their funds. This method can be accessed by players around the globe. The minimum withdrawal is $100 while the maximum for a week is $2000.
- Bank wire: this withdrawal option is available to just US players. Making withdrawal with this option would take about 7 business days to process. The minimum withdrawal is $100 while the maximum is $2000.
Each of the withdrawal options listed above can be accessed once a week. You can return funds to your account before withdrawal is fully processed via the '' Reverse Withdrawal'' option available in cashier portal. A transaction fee is not officially charged via the casino's platform for withdrawals but the options used in making withdrawal might have a fee attached.
Submission of Documents before Withdrawal
Players are required to submit an international passport or a government-issued ID at the Golden Lion Customer service portal before their withdrawals are fully processed in accordance with the international banking regulations governing all casinos licences.